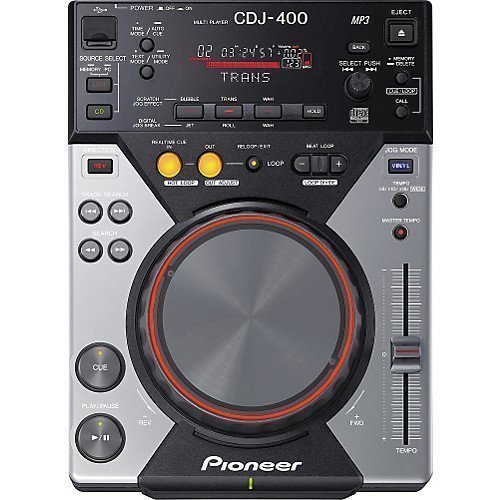 Digital Loop functions: A variety of loops can be created for additional audio effects.
Beat Loop: Automatically creates a four beat loop based on the tempo of the music (BPM) being played.
Loop Divide: Rhythmically divides the loop to create different patterns.
Hot Loop: Restarts the loop seamlessly from its entry without interruption of the music.
Digital Jog Break: In CD mode the CDJ-400 contains three effects, Jet, Roll and Wah, which further enhances the audio by simply rotating the jog dial. The same buttons for the Scratch Jog Effect are assigned to the Digital Jog Break which are accessible at any point of play.
Tempo Control: Four tempo modes, ±6%, ±10%, ±16% and WIDE, provide additional speed control with a resolution of 0.02% in the 6% range.
Cue/Loop Points: Up to 10 cue/loop points per disc, for up to 920 discs, can be stored to player's memory.
Jog Indicator: A red halo illumination around the jog provides instantaneous visual feedback to the DJ.
Customizable Jog Wheel: Users can create their own customized image to insert under the removable jog wheel top.
Digital Output: A digital output is available for a direct connection for clearer sound to a connected mixer.
Resume Function: The function takes effect if a CD is ejected accidentally. Once the DJ re-inserts the disc, it automatically starts playing from exactly the point where it stopped.