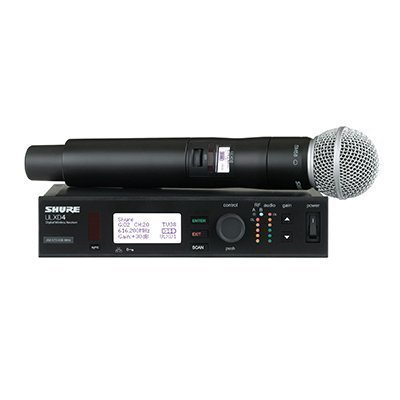 The ULX-S/SM58 Wireless Handheld Mic System Kit from B&H includes a ULSX4 single-channel diversity receiver, a ULX2/58 handheld wireless transmitter, a WA555 switch cover, UA507 rackmount hardware, and a zippered carrying bag. It can be used in various environments for applications such as live stage, theater, houses of worship, boardrooms, conferences, and more.
The microphone kit is tuned to Shure's J1 frequency band between 554.02 and 589.97 MHz. The system offers automatic frequency selection with a group scan function and has up to 1440 selectable frequencies. The handheld transmitter includes a SM58 interchangeable microphone cartridge and offers up to 9 hours of continuous battery life with a 9V alkaline battery.
The ULX series brings a good level of quality performance to professional sound reinforcement applications.
Available today for rental from ONE BOX Entertainment.
For more information and pricing, give us a call on 99 40 93 93